Kirari NINJA
October 3, 2022
Kirari NINJA-DS, a device for automatically taking pictures of the inside of marine engine cylinders
In collaboration with Daitron Co., Ltd., we developed and launched the Kirari NINJA-DS, a device for automatically taking pictures of the inside of marine engine cylinders, in 2018.
Conventionally, inspections of the inside of marine engine cylinders were limited to open-up inspection in which crew entered the inside and visual inspection in which crew looked into the inside through the scavenging port. The open inspection requires long hours and is heavy workload on the crew, and after reassembly, a test run and possibly reassembly is required. and if something goes wrong at the trial run after the inspection, the cylinder may be opened again, and it must be a big burden.
Kirari NINJA-DS is installed on top of the piston from the scavenging port after the engines are stopped and automatically takes pictures of the inside of the cylinder with a 360° camera during one round of vertical piston movement. Kirari NINJA-DS greatly reduces the labor and time burden on crew members. The images also can be utilized to grasp and analyze the condition of inside of the combustion chamber.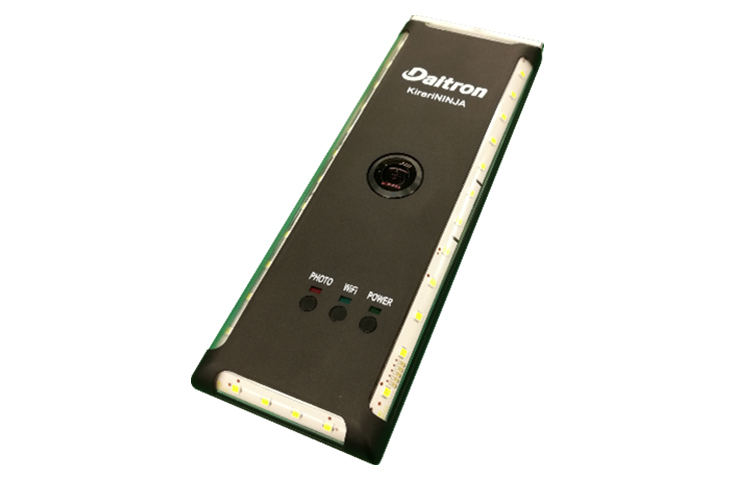 ■

Development of Kirari NINJA application

Following the device for automatically taking pictures of the inside of cylinders, MTI is developing a NINJA-DS dashboard to utilize the 360° images captured by Kirari NINJA-DS. The purpose of the open-up inspection of the cylinder is to check for wear, corrosion, or scratches on the cylinder liner, as well as the remaining surface coating. This inspection is performed on a regular basis, and deterioration is measured by comparison with the result of previous inspection. If the comparison is made only by the images, the clarity of image is extremely important, and it is also necessary to identify the position where the image is taken in the cylinder.

360 degrees view inside of the cylinder liner taken by Kirari NINJA-DS is monitored on the dashboard, and damages such as strong hits or deep scratches can be identified while the piston goes up and down in high resolution. The dashboard has other functions such as a link with a ship data collecting system, showing the risk of low-temperature corrosion of cylinder liner and reporting. We are trying to brush up the functions furthermore to make it better.

(Writer: Mami Teraguchi)
Contact
For additional information about this, please contact us by our inquiry form.