MTI Journal
MTI Journal.08
Building Infrastructure for Supporting Digitalization
Shogo Zaizen
---
Principal Researcher, Maritime Technology Group*
March 15, 2019
Since December 2016, I have been seconded to MTI and am mainly engaged in operations related to ship communication infrastructure. As seen in the rapid spread of smartphones these days, technological innovation of the communication infrastructure is accelerating on land along with the increase in communication demand such as high speed and large capacity. Even in the shipping industry, although it is not yet comparable to land, it can be said that the distance between ships and land has been significantly shortened compared to ten years ago, as technology is advancing day by day.
Under these circumstances, NYK Line / MTI collects various data on ships via satellite communications, land mobile networks, etc., and analyzes the data on board and on land to ensure safe and efficient ships. We aim to realize operations and improve the service value we provide to our customers on a daily basis.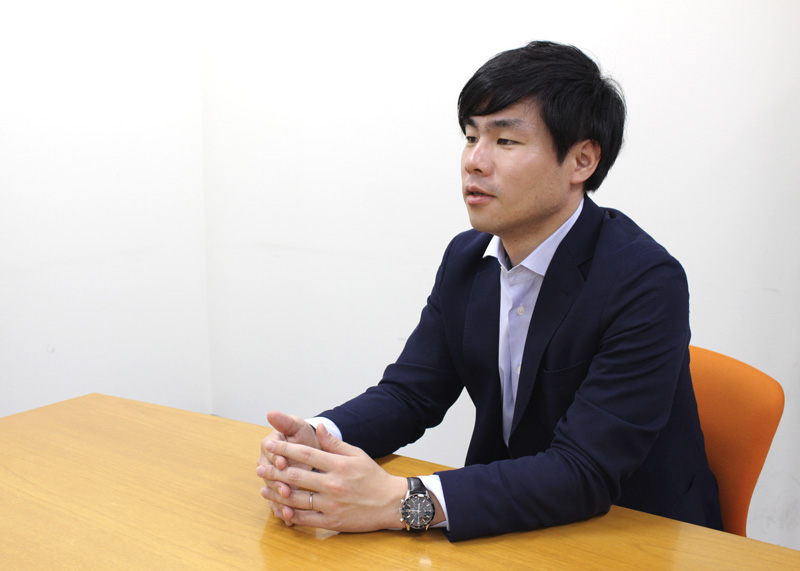 My main task is to build a system to collect more detailed data from ships more efficiently and stably with respect to the data collection that is the basis of these activities. It's rather unglamorous background work compared to front-end development, but I find it very rewarding to be involved in bringing data from ships, which important work could be the starting point of all R&D activities, as when a baseball game doesn't start until a pitcher throws that first ball.
The Ever-Evolving SIMS
Currently, there are about 200 vessels equipped with SIMS (Ship Information Management System), and it collects and calculates data on board and sends it to land. Thanks to this SIMS working stably every day, a lot of data is gathered on the land side, and researchers are exploring how best to utilize that data every day. SIMS normally calculates the data every hour and delivers it to the land, but we are considering increasing the data granularity, such as 20 minutes, 10 minutes, 6 minutes, etc., so that more detailed analysis can be realized.
In addition, SIMS data-collection targets are based on two sources, VDR (nautical information) and engine data logger (engine information), but by linking this with other sensor data, the infrastructure will be able to collect data that could not be collected until now. Further, although we call it "data standardization," there are various manufacturers and models of data loggers, and each company outputs data in its own format, so when such data is used on land the differences might cause confusion. Therefore, we are carrying out activities to standardize these data (in cooperation with ISO standardization activities at the Smart Ship Application Platform), which is also contributing to the creation of a platform for more efficient data utilization.
Next-Generation SIMS (Collaboration with the NTT Group)
In parallel with those activities, we have discussed what the next-generation SIMS should be. As described above, for realizing safe and environmentally friendly vessel operation, NYK and MTI have carried out activities that analyze and utilize the ship IoT data based on the operation know-how. But when we develop a new data-utilization system, it's not easy to introduce the system to ships all around the world. In addition, onboard satellite communications remain too slow for updating the systems efficiently.
So, NYK and MTI are collaborating with the NTT Group and trying to overcome the weakness by merging our problems and needs with NTT's ICT technologies such as remote system delivery system and edge computing. Vessels will soon be more highly networked, and vessel operation increasingly automated. In that kind of situation, we are striving for realizing the next-generation ship ICT platform, which could be an infrastructure, and making further ship innovation happen.
Organizing Infrastructure and Cybersecurity (Collaboration with Dualog)
So far, I have introduced onboard data-collection activities. Through the further development of satellite communication and more efficient data collection, naturally various machinery on board will be interconnected, and thus networks will be more complicated. Consequently, new tasks will emerge such as organizing and managing the system for operation and benefits or monitoring the traffic volume. To solve those tasks, in collaboration with Dualog, NYK and MTI are trying to develop a software that can centralize and efficiently manage the onboard routing, firewall setting, data usage management of crew members, and traffic-volume monitoring.
And as the distance between ships and land has been recently shortened, cybersecurity risk is concomitantly growing in the shipping industry, and so we have considered what measures should be taken on board and on land. This software should not only realize secure communication on board but also have a function that monitors overall cybersecurity risk; therefore, we target building a big system that can monitor the conditions of NYK-operating ships by land. In addition, we are collaborating with the class societies of individual countries for studying cybersecurity itself in the shipping industry and are considering how we can best incorporate the software in the actual ship operation and management.
Data Utilization in the Whole Shipping Industry (Cooperation with Ship Data Center)
As above mentioned, NYK and MTI are promoting activities for utilizing data by ourselves. At the same time, for contributing to the Japanese shipping industry, we are participating in IoS, the Internet of Ships framework, and collaborating with Ship Data Center, which is a subsidiary of ClassNK, the Japanese class society, in trying to promote data utilization.
We send both the data collected in collaboration with the NTT Group and the data collected by the advanced SIMS to Ship Data Center, then check the condition, and are thereby trying to develop an application called Ship Data Viewer for utilizing and visualizing the data stored in Ship Data Center.
An Idea Comes First in the Future!
In this article, I talked about data-collecting devices, onboard network management, and the promotion of data utilization in the shipping industry with the evolution of communication technology – but those remain as the infrastructure and base. NYK and MTI have launched various projects, and we discuss how to utilize the collected data day to day. But naturally, the shipping industry consists of not only shipping companies but also ship-management companies, shipping yards, nautical-instrument manufacturers, engine manufacturers, port managers, seamen's unions, and shippers. The discussion of what data to collect and how to utilize it should be more active, and various ideas born there should increase the safety and effectiveness and provide a spark to make the shipping industry much more interesting. The infrastructure has been certainly created, so ideas should matter in the future. It would be nice if we can accelerate the shipping industry with unprecedented ideas.
Related Links
Press release on May 31, 2017: NYK and Dualog Enters into Strategic Partnership for Joint Innovation
Press release on September 20, 2017: NYK Group and Norwegian Partner Dualog Begin Collaboration with NTT Group for On-board IoT Innovation
Press release on February 15, 2018: Joint Test of Next Generation Onboard IoT Platform Conducted